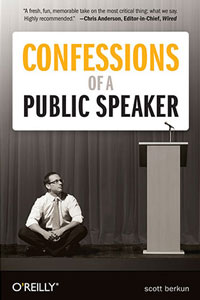 In this hilarious and highly practical bestseller, Berkun reveals everything you need to know to speak well in front of any audience.
Get personalized training and feedback at any level of experience
Scott Berkun has coached hundreds of speakers through the challenges of sharing their ideas to large groups of people. His informal, fun and lively approach is painless and memorable. The lessons you learn with stay with you throughout your career.
Standard sessions are just an hour, but depending on your needs can be longer or reoccurring as you develop your material.
Customized session

The hour begins with a brief chat on your skill level and goals. But quickly you'll be getting feedback on practice runs, doing fun exercises and revising your material in real time. 

Actionable critique of your style, ideas and storytelling skills

You'll learn the strengths and weaknesses you already have, with input on how to improve and gain confidence

An intense, but fun, training experience

Speaking is a performance skill and the best coaching spends as much time as possible with you practicing small segments and getting direct feedback and advice. 

Signed Copy of Confessions of A Public Speaker

As a gift, and reference, you'll receive a signed copy of the national bestseller Confessions of a Public Speaker, to help you practice and learn after your session.

Follow up advice and recommendations

Depending on your specific areas for improvement, you'll get follow up notes on exercises to try, habits to adopt or other helpful materials to study. 
Contact us to schedule your session
Sessions are by appointment only (primarily on Skype with limited Seattle area meetings), so get in touch so we can set up a time.
If you organize an event and want coaching for all of your speakers, we can work out a group arrangement to make sure they all do a great job for you.